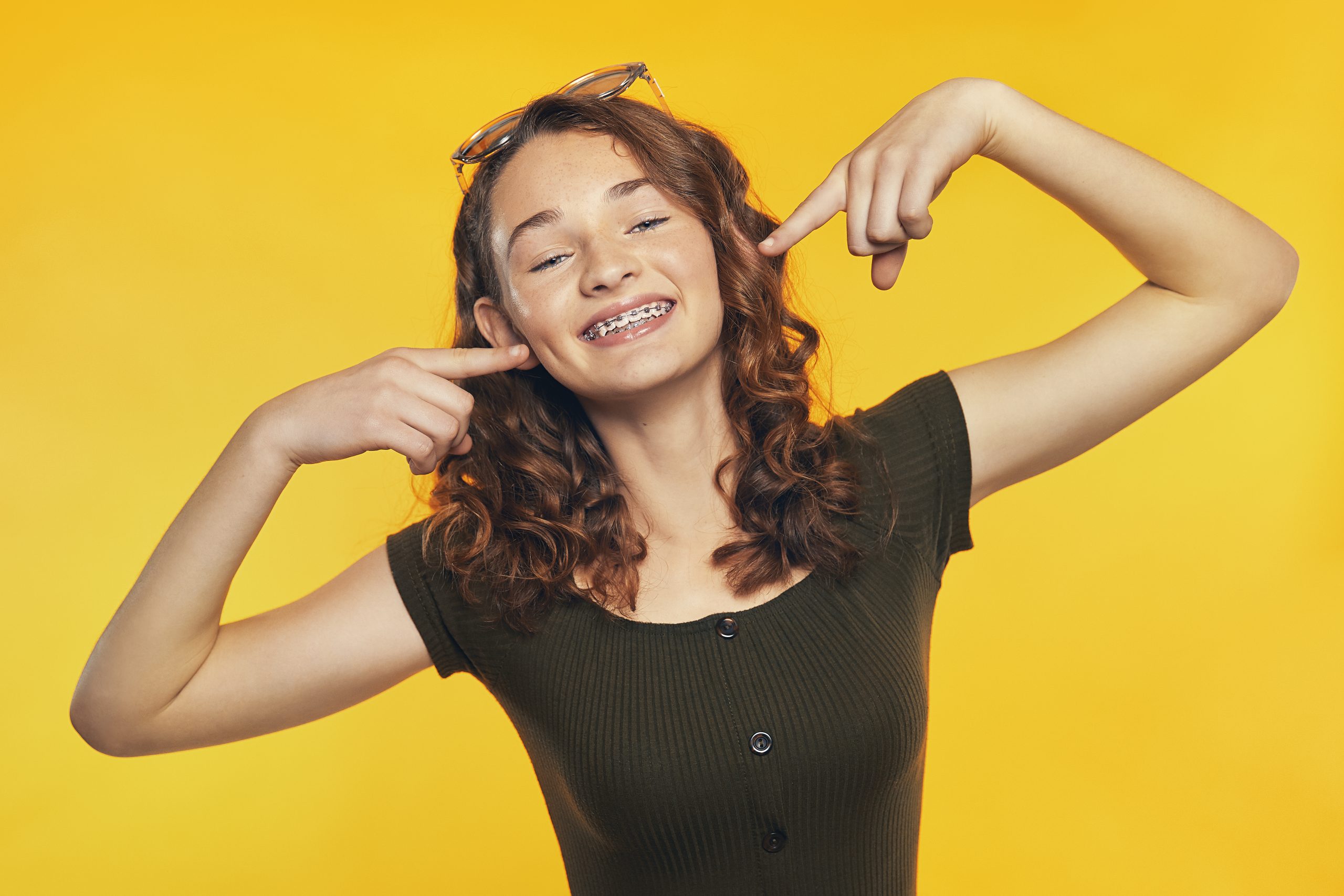 Costs of Orthodontic treatment.
Orthodontic treatment varies for everyone, so we don't have set fees.  We customize our treatment plans per each individual patient and their needs.  Treatment can start as low $3,500.  To find out more please call the practice.
Benefits of Orthodontic treatment.
Having a beautiful smile can be a great confidence boost. Orthodontic treatment may have additional benefits including, making it easier to clean your teeth and gums, helping to maintain a healthy mouth. Orthodontics may help with chewing or speech difficulties.
When should my child first see about having Orthodontic treatment?
Not all children will need early orthodontic treatment. However, in some cases early treatment can help avoid long-term problems or simplify later treatment. Visiting the dentist between the ages of 7-10 will allow assessment of the development of the teeth and jaws and will provide information on the optimum timing for any treatment required.
If my child or I need treatment what are the options available?
Conventional fixed orthodontic appliances have evolved to make them less bulky and conspicuous. There are also cosmetic options available including clear fixed appliances and sequential clear aligners.
Early childhood treatment:
This is provided in selected cases before all the adult teeth have come through in the pre-adolescent development phase. This type of treatment may involve fixed or removable (clip on) braces. The aims of early treatment will be customised to individual needs but may include:
Reducing protrusion (buck teeth), for psycho-social benefit and to reduce the risk of dental trauma.
Correction of under bites (when the top teeth bite behind the bottom ones). This may encourage more balanced development and help reduce the risk of abnormal wear to the teeth.
Expansion, which may be used to match the width of the top and bottom jaws (to correct cross bites) and or to create space for the adult teeth, or to correct an incorrect bite position.
Habit cessation, is important especially once the adult teeth begin to come through. Continued thumb sucking can cause protrusion of the teeth and can alter the shape of the developing jaw.
All treatments are planned on an individual basis. Realistic expectations regarding the outcome and benefit of proposed early treatment can be discussed. Common broad aims include enhancing growth and facial development and simplifying later treatment.
Teenage Treatment:
Usually started when all or almost all of the adult teeth are through and often timed with the pubertal growth spurt, many treatment options are now available for teenage patients including:
Conventional metal fixed on braces, to which colours may be added if requested.
Clear cosmetic fixed on braces. Usually placed on the upper front teeth and therefore reducing the visibility of appliances.
Clear aligner therapy (Invisalign). A computer-programmed series of aligners are custom manufactured, designed to gradually correct tooth and bite positions. Aligners are very discrete and are removed for eating and brushing. Due to the removable nature of the appliance good compliance is essential if optimum outcomes are to be achieved.
Teenage treatment is routinely comprehensive with a view to not only creating a beautiful smile but one, which is in harmony with the face and profile with excellent function.
Adult treatment:
Many adults wish they had received orthodontic treatment as a child or have noticed minor changes in their teeth with time. Adult orthodontic treatment now represents a significant part of an orthodontists role. Treatment, will not only have a cosmetic benefit, straight teeth are easier to maintain with less hard to reach areas.
Orthodontics is possible for most adults, as for younger patients it is essential that tooth and gum health is optimised through, working with your dentist or other specialists before commencing orthodontic treatment. Regular checks with your dentist will be required during orthodontic treatment to ensure your mouth remains healthy during treatment.
The advent of cosmetic orthodontic treatment has increased dramatically the discretion and acceptability of having orthodontic treatment as an adult.
Adults may wish to undertake comprehensive treatment for correction of their smile, bite and when indicated jaw position. Alternatively some adults may wish for a limited objective course of treatment to correct only elements of their bite or smile. The risks and benefits of alternative choices will be discussed to allow you to make an informed choice that is compatible with your goals and lifestyle.
Adults commonly selected between fixed orthodontic appliances with cosmetic upper anterior brackets or clear aligner treatment.
Clear Aligners:
Clear aligners are a popular choice for adults. The advantages include subtle appearance of these so-called 'invisible braces', the ability to remove the aligners for cleaning, making it easier to maintain tooth and gum health during treatment. Additionally aligners are removed for eating, placing fewer restrictions on diet than traditional fixed on braces. The gradual nature of the programmed movement reduces discomfort through-out treatment
However for optimum results aligners must be worn for 22 hours per day so may not fit with all life styles. There will be a period of tongue adaption to aligners covering the inside of the teeth, which may alter speech.
Aligner therapy is suitable for correction of the more mild orthodontic problems.
Braces – Traditional
Should you require more complex orthodontic correction fixed on braces may be a more effective treatment over a shorter time frame.
Braces combined with jaw surgery:
Some patients may request an improvement in facial appearance, in non-growing patients this may be achieved through surgically altering jaw positions in combination with orthodontic treatment. For other patients a change in facial appearance is not a primary goal however, jaw surgery may be required to allow full bite correction and better functional balance.
Treatment do's and don'ts
For all age groups and appliance systems once of the major determinants of treatment success is patients compliance. You can help your treatment efficiency by:
Coming to all your appointments.
Continuing to have regular ' normal' dental check-ups.
Maintaining excellent tooth brushing.
Avoiding a high sugar diet and cutting out sugary foods and drinks especially in between meals and within an hour of bedtime.
Avoiding foods and drink high in acid such as fruit juice, fizzy drinks including diet fizzy drinks, sports drinks and energy drinks.
In fixed on braces avoiding food that is too hard crunchy sticky or chewy. which may break the braces causing discomfort and slowing progress.
Making sure you wear removable appliances for the number of hours requested.
Wearing your retainers to help hold the teeth in the desired position.
SERVICING SURROUNDING SUBURBS
We offer our Orthodontic services to surrounding suburbs Point Cook, Truganina, Tarneit, Laverton and Hoppers Crossing.