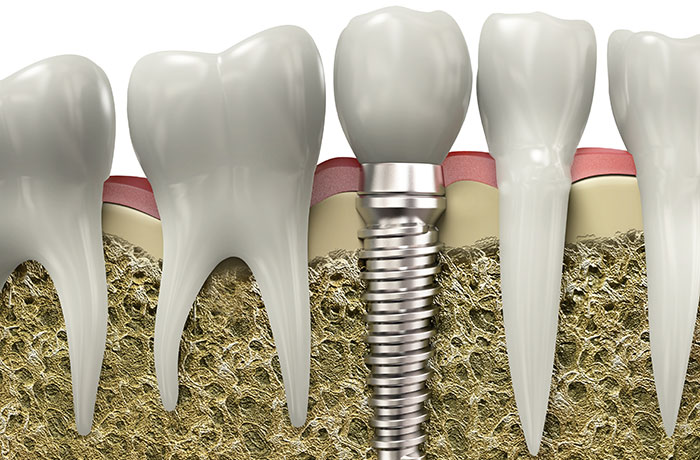 What is a Dental Implant?
A dental implant replaces the root or roots of a tooth that has been removed. The implant is surgically placed in the jawbone (therefore it is not visible in the mouth) and a crown is then secured to the implant (which is the part that is visible in the mouth).
What is a Dental Implant made of?
The dental implant is made of Titanium, which is lightweight, strong and biocompatible.
How does the Dental Implant work?
Once a dental implant is surgically placed into the jawbone, it fuses itself to the remaining bone. Placing a dental implant into the space where a tooth has been removed stabilises the bone, preventing more bone loss in that area. By placing a dental implant you are maintaining the space of the original tooth, while maintaining your jawbone shape and density.
Am I a Candidate for a Dental Implant?
Anyone who has had a tooth removed may be a candidate for a dental implant, provided they are not immune-compromised i.e. undergoing chemotherapy/radiation treatment. Generally, if you are in good health you are likely to be a candidate for a dental implant.
Do I need x-rays before the procedure?
Yes, before any dental implant surgery is undertaken you will be required to undergo a series of dental x-rays and 3D/CT scans. Some study models will also be required to assess your bite. This is an essential part of knowing the exact position in the bone to place the implant.
Servicing Surrounding Suburbs
We offer our Implant services to surrounding suburbs Point Cook, Truganina, Tarneit, Laverton and Hoppers Crossing.